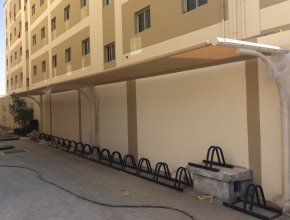 Bicycle Stands Manufacturers
Bicycle stands manufacturers in uae. Doors & Shade Systems manufacture all types of bicycle stands for apartments, labour camps, metro stations, schools, colleges, warehouses e.t.c. we offer different type of bicycle stands based upon requirement. All our stands are manufactured with high quality standards. The finish for the stands is powder coating.
&nbsp
&nbspDoors & shades Bike racks are constructed from a number of different materials. Durability, weather resistance, appearance, and functionality are extremely important variables of the material of the bike rack. Construction materials include stainless steel, steel, recycled plastic, or thermoplastic. Each material has advantages and disadvantages, and each is unique in appearance from the others.
&nbsp
&nbspThe visibility of the bike rack, adequate spacing from automobile parking and pedestrian traffic, weather coverage, and proximity to destinations are all important factors determining the usefulness of a bicycle rack. These factors will help increase usage of the bike rack, and assure cyclists their bike is securely parked.