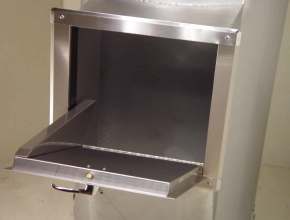 Garbage Chute Suppliers
Doors & Shade systems is industry's best affordable garbage chute supplier in uae. Doors & shades garbage chutes are very convenient, simple and low cost method of controlling and disposing of refuse and linen in multi storey buildings. Garbage chutes supplied by us meets all requirements of environmental health and safety standards.
Pros-Garbage Chute
The inclusion of chute cleaning systems, sanitizing and disinfecting units, sound damping and fire control equipment, within the overall design of chutes have greatly increased their usage throughout.
&nbspDoors & shades are the suppliers & installers for different types of garbage chute systems. We supply PVC and plastic garbage chutes for underground construction sites.
&nbsp
&nbsp
Garbage Chute - Specifications
&nbsp
We have Garbage chute for buildings made of GI & stainless steel
&nbsp
The garbage chute thickness varies from 1 mm to 2 mm thick with an extra protective coating.
&nbsp
The chutes are custom made from 450mm to 700 mm based upon the requirement.
&nbsp
Garbage chute system is provided with Gi doors or grade ss304 /316 steel based on the requirement.
&nbsp
The garbage chute doors are provided with the automatic closing system in case of fire which is connected to control panel or bms system.
&nbsp
The garbage chute is provided with self-washing sprinkler system.
&nbsp
The garbage chute is also provided with exhaust at top
&nbsp
&nbspContact Doors and Shades, the best supplier of Garbage Chutes in UAE for a clean environment.