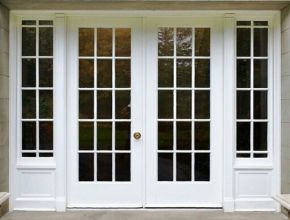 Doors & shade systems supplies & installs all types of UPVC doors & windows in Dubai, all of our UPVC doors are manufactured with security in mind. With the most up-to-date multi-locking mechanisms fitted as standard, all of our doors are fully reinforced to give you added security and stability.
&nbspWe have different designs to choose from to suit your individual requirements. As our doors are bespoke (made to measure) we cater for any option from a single entrance door to something more complicated including side screens. Our door range compliments our range of windows for color and style, if you require a door only we will match the door to compliment your existing windows.
&nbspWe have a different range of frame colors to choose from, colors available are Oak, Irish Oak, Rosewood and White. We also offer a wide range of colored frames for that contemporary look using any RAL or BS colors and these are available.
&nbspThe lock has 3 hooks and 2 roller cams for enhanced performance and weather sealing. The rollers ensure precise compression of the weather seal and door alignment in the frames, while the hooks offer extra security. The bi-directional hooks ensure maximum resistance to anti-lift and separation providing a secure barrier against forced entry.
&nbspThese doors have very good thermal insulation system. Doors & shades different upvc windows like sliding, tilt, turn, tilt & turn with single & double glazed tempered glass. We supply & install from a small door to big project.
&nbsp
&nbspIn recent years, Un-plasticized Polyvinyl Chloride or UPVC doors have become popular and are being used widely in homes.
&nbsp
&nbspUPVC is also the most durable of the materials available. It is strong, tough and resilient. It is highly unlikely UPVC will need to be changed.UPVC doors never rots, flakes, rusts, fades, pits, peels or corrodes. It needs only a light soapy wash and a check of the seals for maintenance. UPVC requires virtually no maintenance making it very convenient and time-saving.UPVC is a stable material so it is pollution resistant, sea water resistant and chemical proof. Wood can swell and rot and aluminium and steel can corrode and have galvanic reaction to the fasteners.Fire tests have shown that UPVC materials, being naturally flame retardant throughout their product life, will not cause, support or enhance the development of accidental fire and are in fact self-extinguishing.UPVC materials are good insulating materials due to which, it keeps home warmer in winter and cooler houses in summer. UPVC prevents thermal bridging so prevents condensation unlike aluminium.