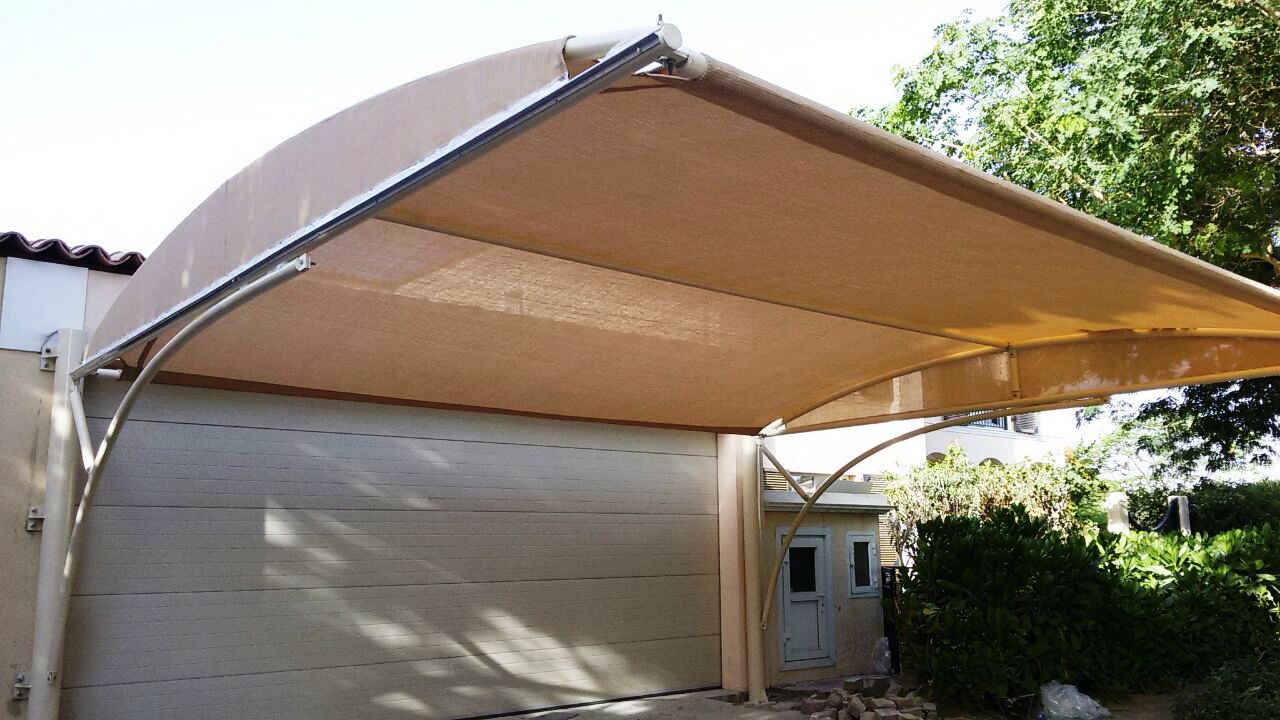 Carpark Shades
Doors and shade systems provide all kinds of car parking shades in Dubai at an affordable price. The carpark shades (car park sheds) are designed professionally with proper structural wind load calculations. The structure for the carpark shade is made with GI & is powder coated to any RAL color.
Carpark Shades Fabric
The carpark fabric is HDPE or PVC depending upon the requirement. We design the foundation required for the carpark shades. We represent fabric brands like Mehler - Germany, Ferrari -France, Gale Pacific- commercial 95. Out fabrics are water resistant and fire retardant.
&nbsp
&nbspCarpark shades will be wall mounted by Doors and Shades where there is no possibility to lay a foundation. Different type of carparks like Pyramid carpark shade, Umbrella type carpark shade, High Cantilever shade, Low Cantilever carpark shade are made, supplied and installed according to the design required by the client. This makes us the best car parking shades (sheds) supplier in UAE.
&nbsp
&nbspWe are one of the most wanted car parking shads manufacturer in UAE that our products are highly appreciated by our clients because of high stability, ability to withstand on any weather situations, ability to withstand heavy wind velocities according to municipality standards, water resistance, high-end quality durability and longer life period.
&nbsp
&nbspOur carpark shades that come in various standard size and design can also be customized to client&nbsps requirements. The carpark shade structures are installed by our experienced site supervisors and professional engineers for better durability.
&nbspDoors and Shades aim in providing best in class quality and innovative products to our clients.
&nbsp
&nbspThe carpark shades designed by doors & shade systems are with the best design and are cost effective. Apart from carpark shades, we have custom-made solutions for swimming pool shades, sail shades, playground shades, Park shades, Retractable shades for pergolas, Architectural shades, Hanging shades, School shades, Park shades, Resort shades, Hotel shades, Mall shades, etc. We, Doors & Shade Systems can manufacture any type of designs related to Tent and shades according to the size and creative designs of the client.
&nbsp
&nbsp
Protect the Vehicles from the Harsh Sun in UAE with Cooling Shades
&nbspImagine keeping the vehicles out in the sun in the desert areas or anywhere in Dubai at noon or in the day time. It becomes incredibly hot and so, pick from a host of car park shades from us at Doors and Shades Systems. We offer a whole wide range of
Carpark Shades in Dubai
. We take great care in producing shades for parks, schools, hotels, cafes, malls and more. We also specialize in retractable umbrella styled shades too.
&nbsp
&nbsp
What makes Our Carpark Shades Unique?
&nbsp
&nbspAs an experienced business dealing in
Carpark Shades Manufacturing UAE
based, we have gained plenty of respect. Our designs are structurally stable and can withstand strong winds.
&nbsp
&nbspThe PVC shades keep the vehicles cool under its shade, and this is why major commercial hubs seek us. As
Carpark Shades Suppliers in UAE
, we have installation experts to help you out. We adhere to the industry standards while manufacturing and supplying these high-quality shades. They are resistant to water and exposure to extreme heat and rains. We offer installation and regular maintenance and repair services too, and it ensures the durable performance of these shades.
&nbsp
&nbsp
&nbspOur carpark shades are manufactured keeping every minute detail in mind, and are available at extremely affordable prices. To make sure that the carpark shades in Dubai look appealing while they do their job of protecting your car, we manufacture them with GI and then powder coat them an RAL shade. Right from the manufacturing process, our experts and professionals are involved to ensure that the carpark shades are deigned in a way to account of wind load, so as to ensure your vehicles stay protected, no matter what.
&nbsp
&nbspOur carpark shades in Dubai are deemed to fit all your needs, and are available in the following shapes:
&nbsp
&nbspPyramind carpark shade, High and Low Cantilever shade, Umbrella type carpark shade, all of which are installed as per the designed required by the client.
&nbsp
&nbspWe assist you in the installation of our carpark shades, and once that is done, you don&nbspt need to worry about anything &nbsp these shades are able to live through tough wings, heat, water and will last you a lifetime.
&nbsp