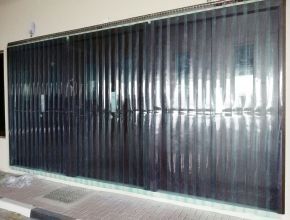 PVC Curtains UAE
Doors & shade systems are the most wanted of PVC strip curtains supplier in UAE for all warehouses, cold stores, restaurants, offices, schools, pantry units.
&nbspSpecifications
&nbsp
The PVC curtains are custom made according to the size required
&nbsp
The PVC strips are fixed with Stainless Steel Hangers & are interlocked with the stainless steel tracks
&nbsp
The curtain is made from 200mm/300mm/1000mm/1200mm width with a thickness of 2mm/3mm
&nbsp
Strips of PVC individually hung from stainless steel track for internal or external use
&nbsp
&nbspApplications
&nbspThese curtains are installed in cold stores, warehouses, restaurants, clinics, schools, hospitals, supermarkets e.t.c. These curtains act as a barrier to control the internal temperature, insects, dust e.t.c.
The Best PVC Strip Curtains Supplier
Our PVC Strip Curtains exhibit the following features to be the best of its kind
&nbsp
Wide varieties such as polar, anti-insect, anti-static, anti-dust & many more.
&nbsp
All these pvc strips are installed on stainless steel tracks with stainless steel clips.
&nbsp
Tailor made to fit door opening
&nbsp
Suitable for pedestrian and motorized traffic
&nbsp
Visibility and access in both directions
&nbsp
Instant energy savings for a/c
&nbsp
Safe, effective and versatile
&nbsp
Easy to maintain